March 10, 2007
So Tuesday rolled around last week and I get a call from Doumall. "Let's go get the Blanca group done this weekend. The weather forecast looks good, it'll be tough but I think we can get it done."
"Sweet," I reply "I've been wanting to get down that way while the gettin's good. Those pics that goldenboy put up from Crestone were great. The snowpack should treat us right."
Leading up to Friday I was salivating over various pics of the peaks thinking about how nice it was going to be back in the first range I ever visited in Colorado, as an Outward Bound kid.
Well things don't always seem to right. Doumall arrived at my place in Denver at about 5pm on Friday. We had to stop at REI for some gear. We were figuring we'd bring a rope and gear for the hourglass on Little Bear considering that one of Davenport's group fell there earlier this winter. We left Littleton at 6:45pm.
Now as some of you know I'm kind of an aggressive driver. I did my best to get down there fast but it still took 3:30 hours.
Nighttime rally style on the Como Lake Road. I love my 4Runner.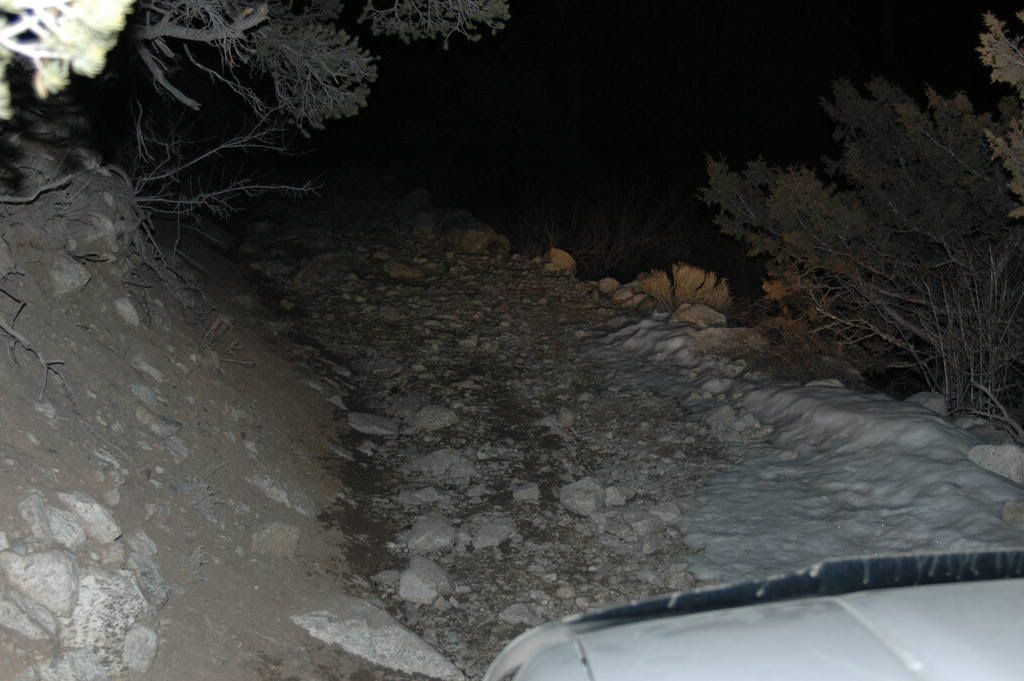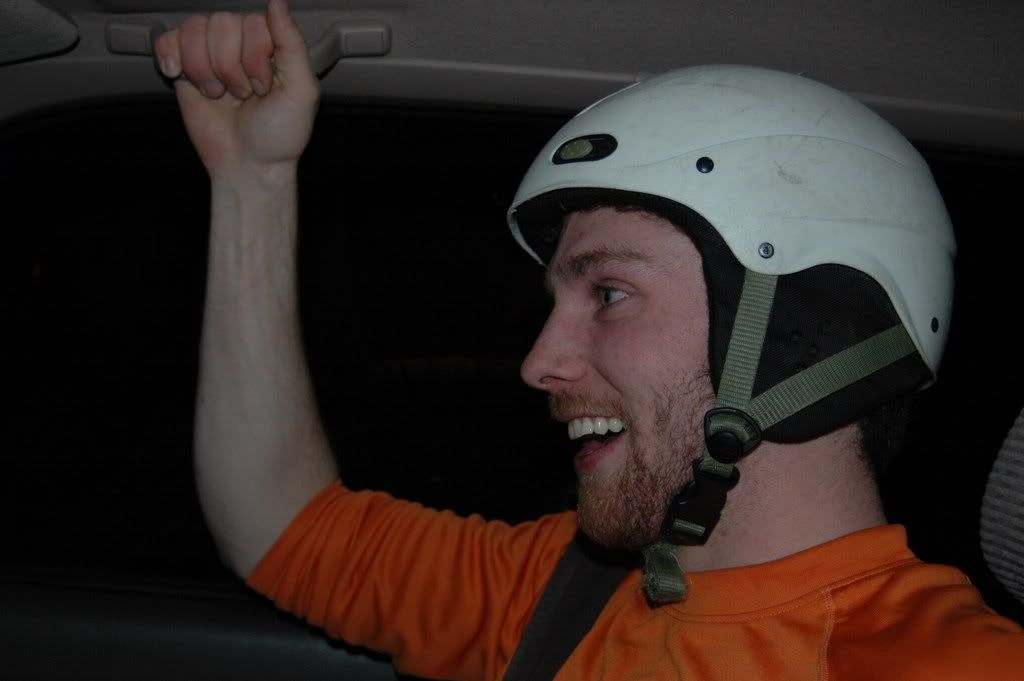 On the way up the road we saw another vehicle. Shit I guess we'll have to bring the tent since they'll probably be using the cabin. Things were getting heavier by the minute. We would later find out that the packs were right at 95 pounds.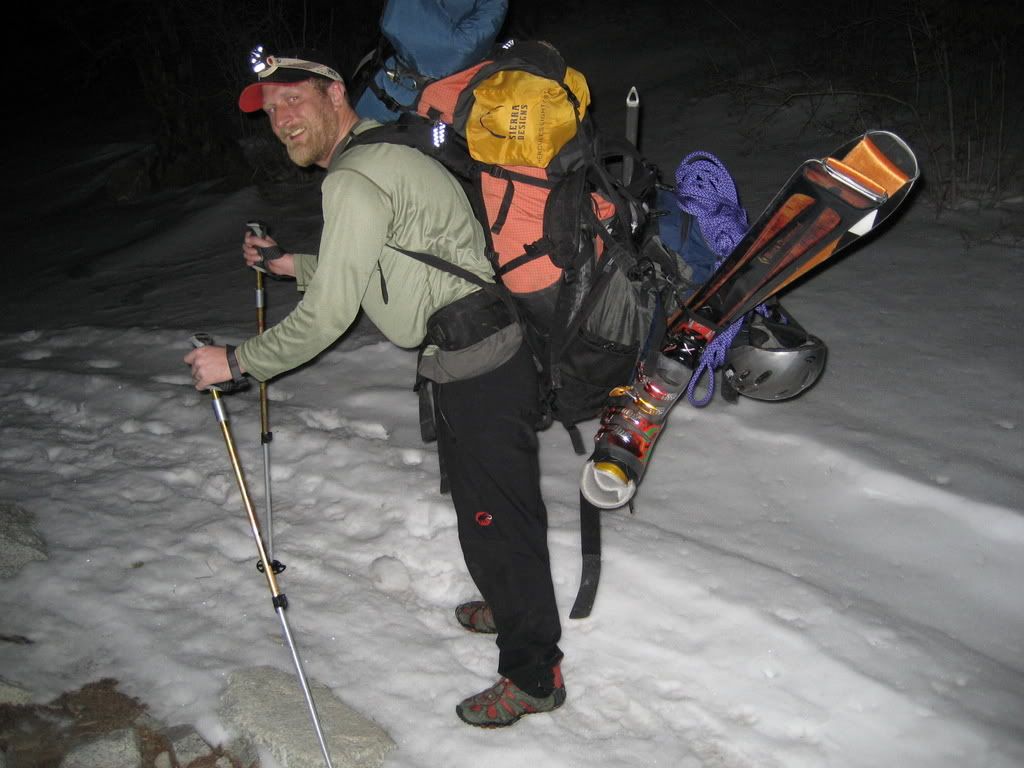 Once we got to more consistent snow the going got easier but it still took us a really long time to get up to the lake. We arrived at 3:30am and had some hot chocolate and went to sleep in the cabin that was unoccupied.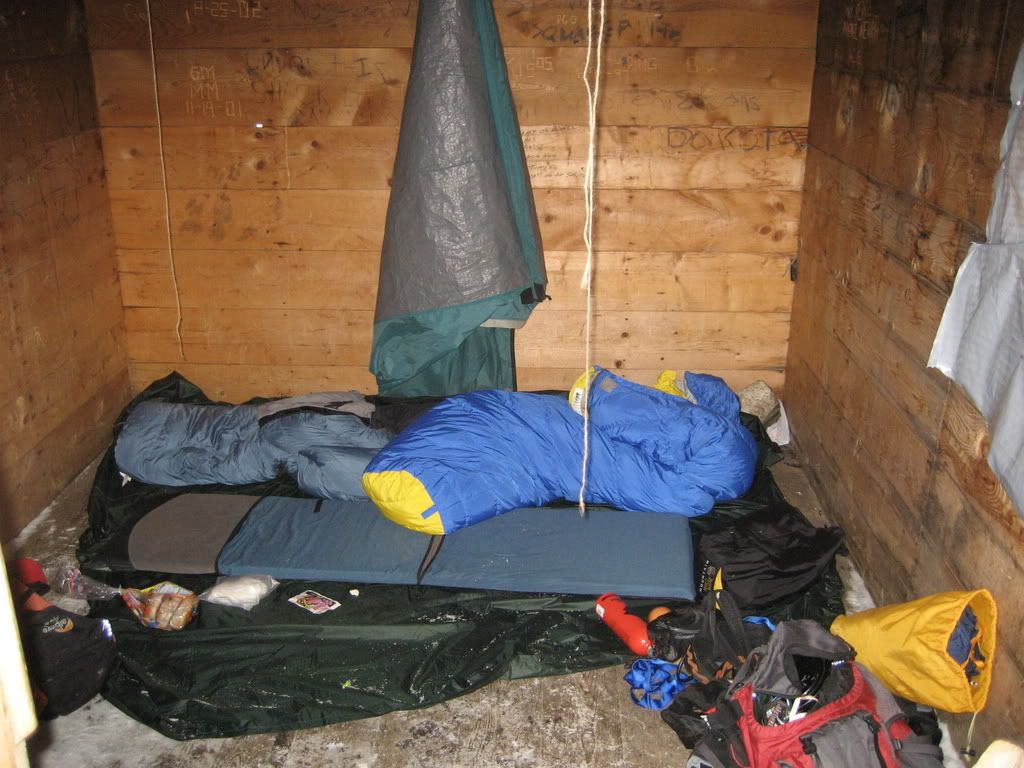 Morning came all to early at 7:30 and we fixed breakfast and geared up for a long day. The plan was to go for Blanca first then ski over to Ellingwood's base and add the additional 1000′ vert for the combination. Get a bunch of sleep that night and shoot for the Hourglass route on Little Bear the next day.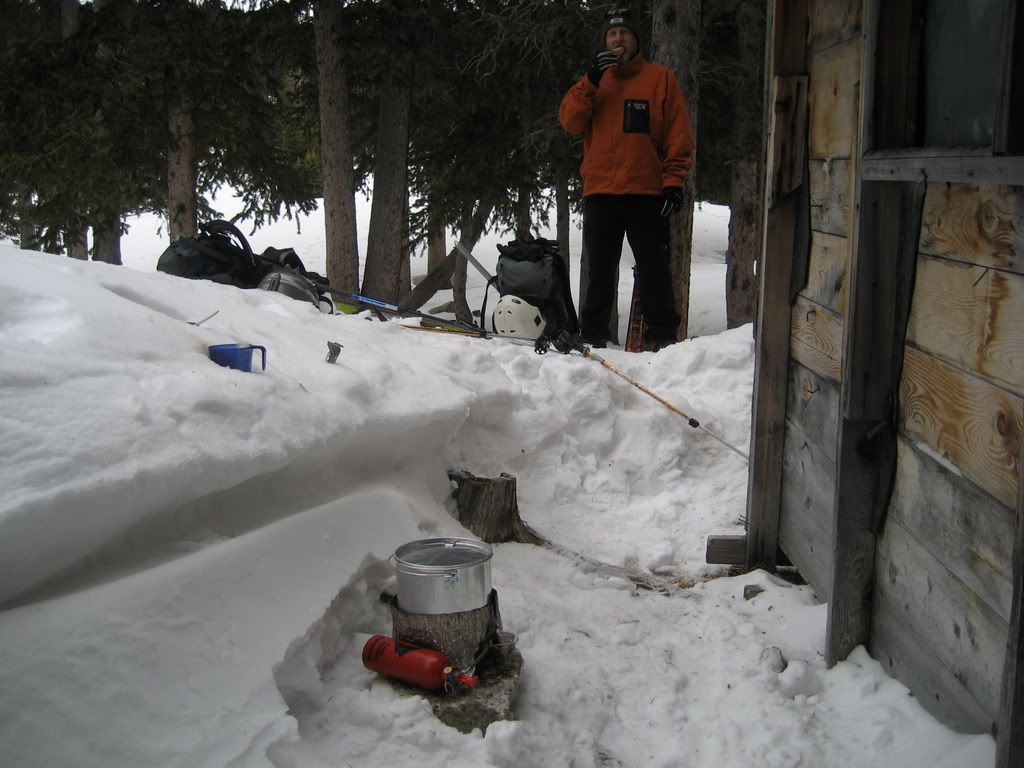 We set out across the lake on our way to Blanca with Little Bear in the background.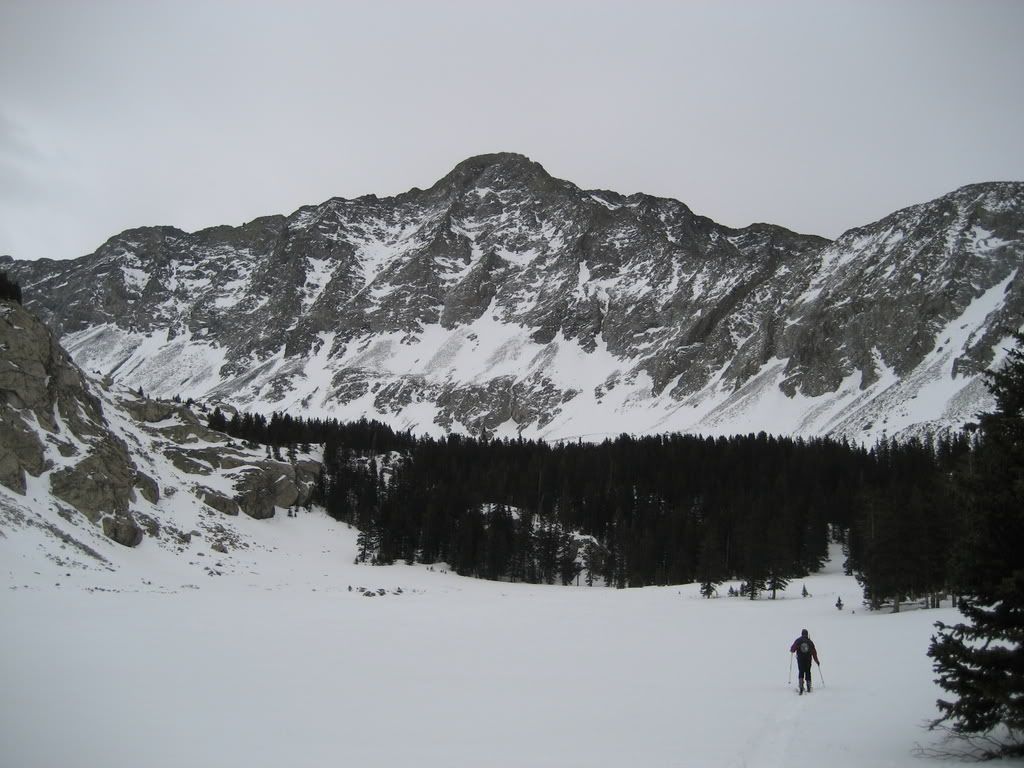 Our first look at Ellingwood.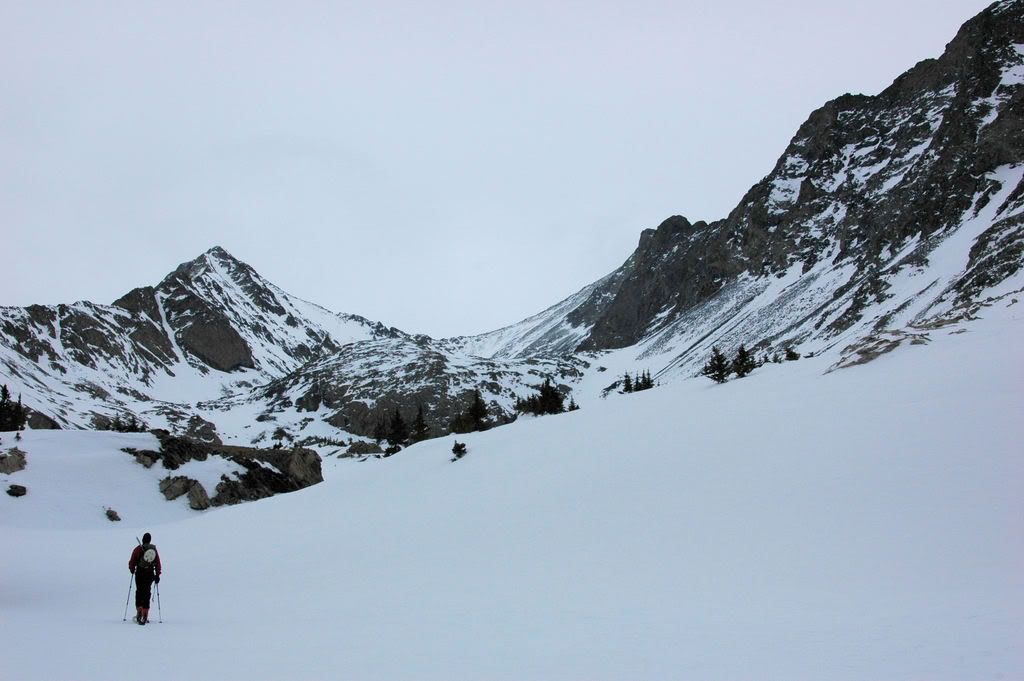 Making our way up, up, up, up …..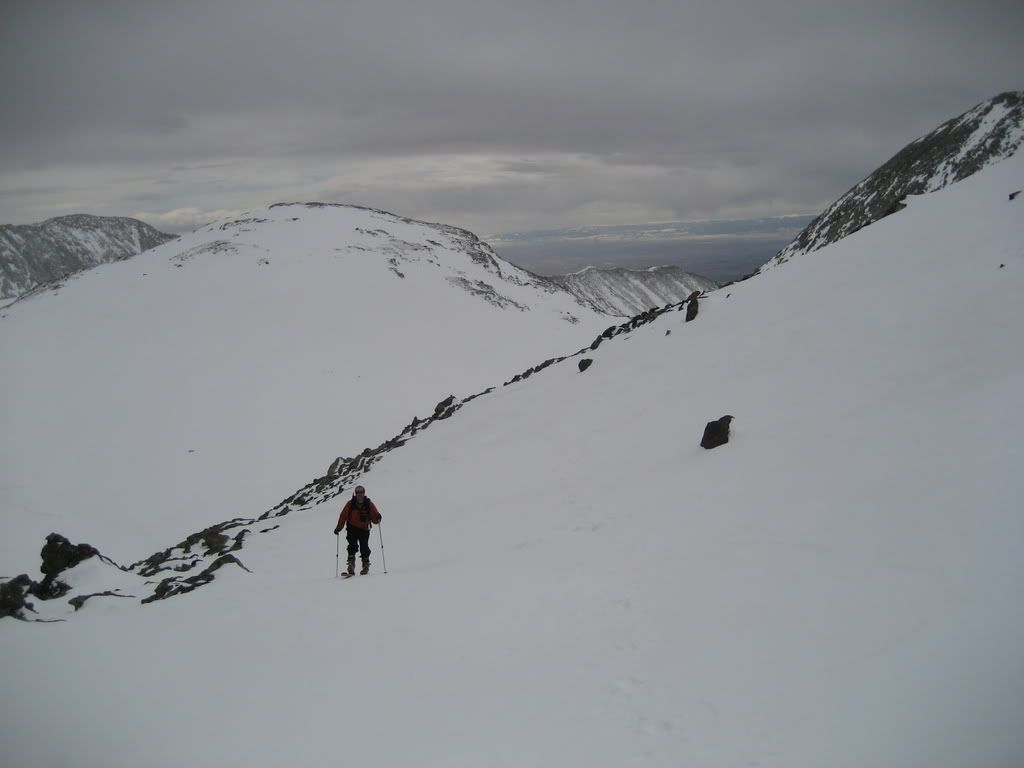 Here's a nice view of the bottom of Ellingwood's exits.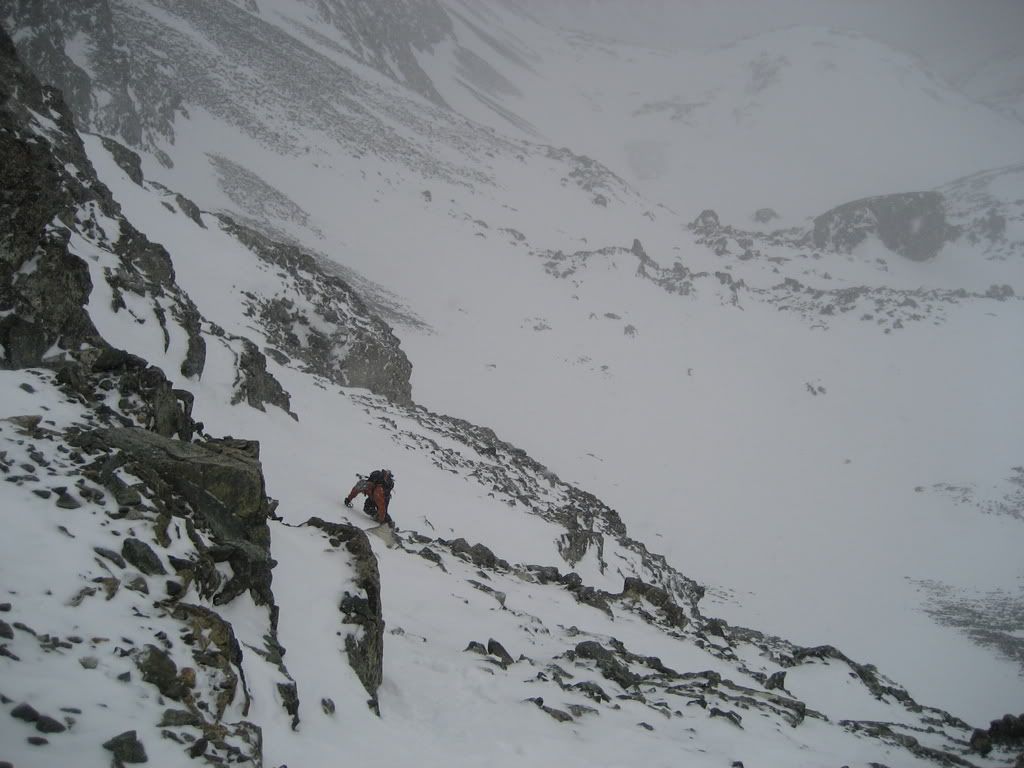 At this point things got really interesting. The storm that was only forecast to be an inch turned into a monster. It dropped close to 7 inches in about 2 hours. We sat and refueled through it and talked about out options. We decided to ski down and began to get our gear ready for our bail out then suddenly the gates opened. The clouds lifted and we could see all the way to the San Juans. "Let's go for it" We continued up trying to reach the summit for what was looking like an awesome ski.
High on Blanca a view of Ellingwood

A view of the other party trying to coax their dog down the NW face.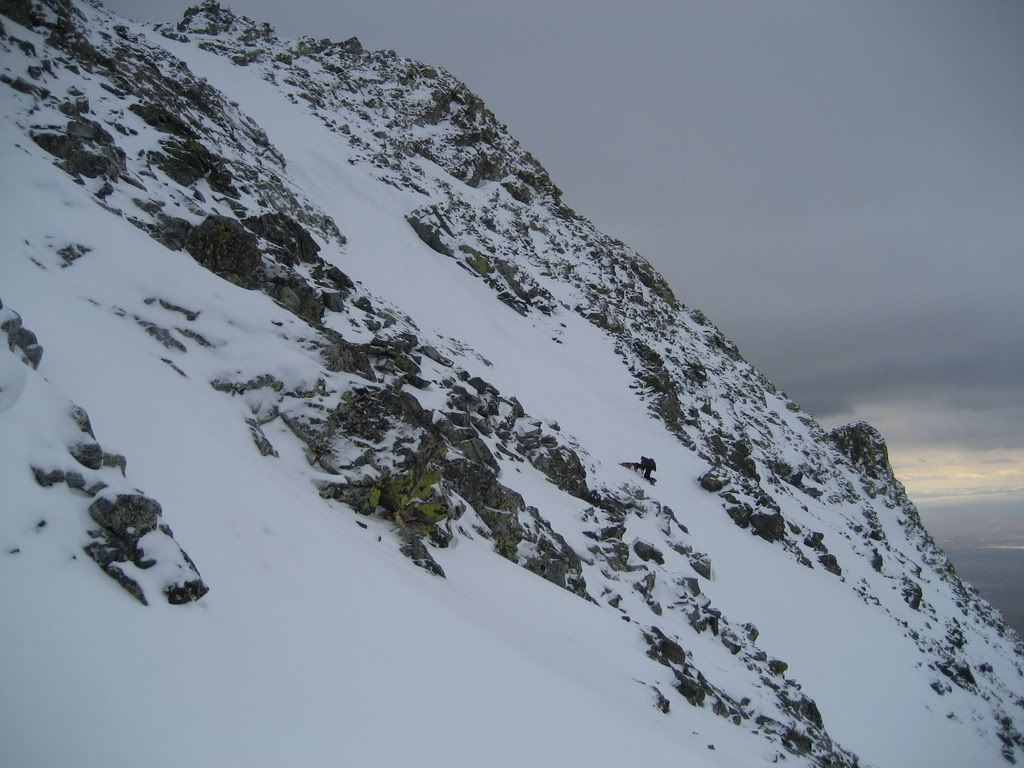 A sweet view of Little Bear

20 vertical feet to go and all hell breaks loose. THE SKIS ARE BUZZING. MY BEARD IS BUZZING. GET ON THE SNOW. GET AWAY FROM THE ROCKS. GET LOW. We sit frozen, no buzzing when still. Move to the left it starts again. Move to the right it starts again. Frozen. Thinking about my wife and 3 year old son. Will I see them again. Is this the day it ends. A minute passes and it felt like the pressure changed. I touched a rock and there was no buzz at all. The energy that had been there just a moment before was gone. We charged to the summit and got off our packs, getting the gear ready for our descent.
At this point it was go time. The storm had returned. We had to get down fast. The new snow wasn't going anywhere as far as from a slide point of view but the vis was just horrible. We made our way down into the bowl below Ellingwood using what rocks we could find to give us some sense of direction. The vertigo was truly astounding. Not even knowing if your moving or not. Having to put your poles down to drag just so you get a sense of what's going on. We could not go any farther. We had to wait it out. We had to find or make shelter. And so a snow cave was born.
It took us about 1 and 1/2 hours to get it done. It was a  good cave about 7 feet long and 3 feet high, and wide enough so our backs didnt touch the walls. Oh it was a cold night. At one point we went outside to stretch and jump around and it was easily 0 degrees but the cave was great. It had to be about 40. It was cold for sure and we were definetly fighting hypothermia all night but if we'd been outside it would have been a far more serious situation. We had enough food and water as well as an emergency blanket. We made it work and we both even slept.
DAY BREAKS AND WE BID OUR HOME ADIEU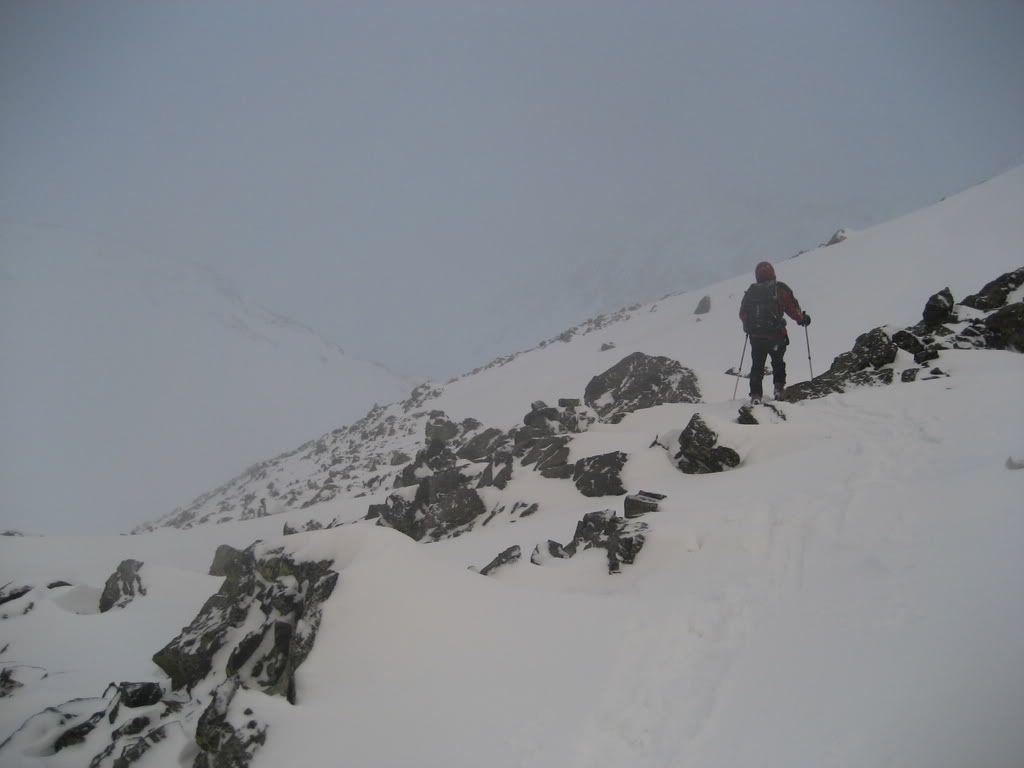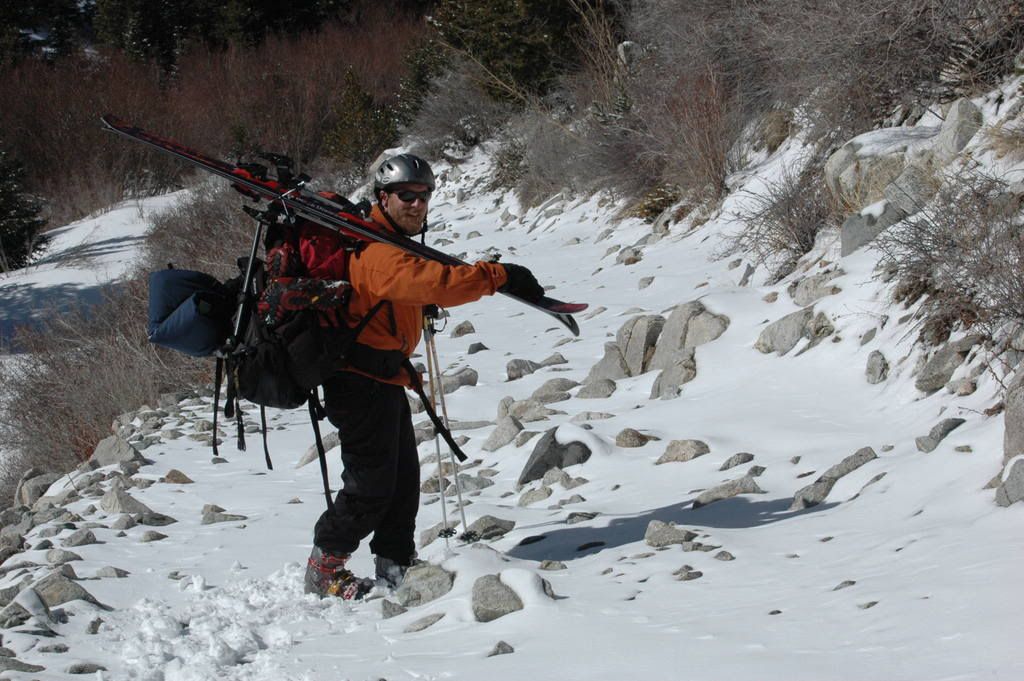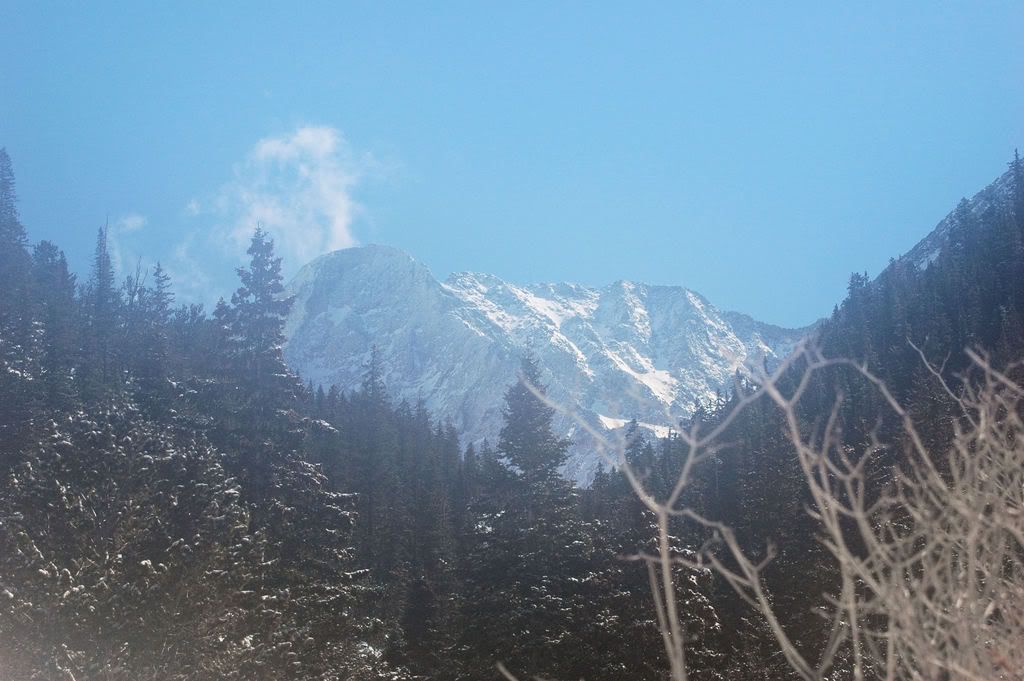 A look at Culebra

The Hourglass on Little Bear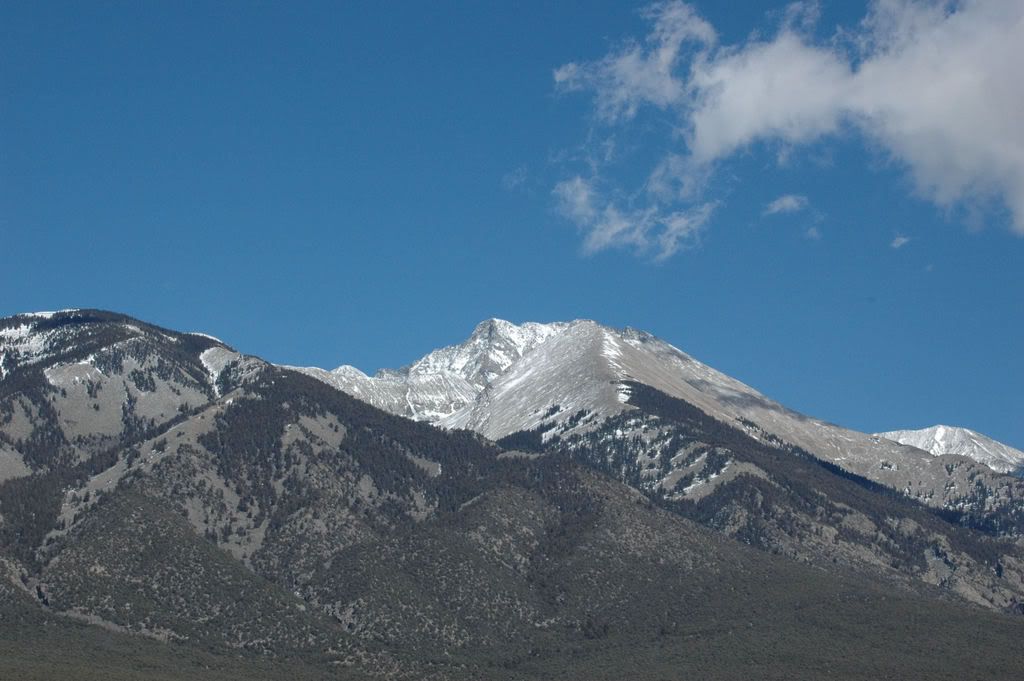 The snow covered Crestones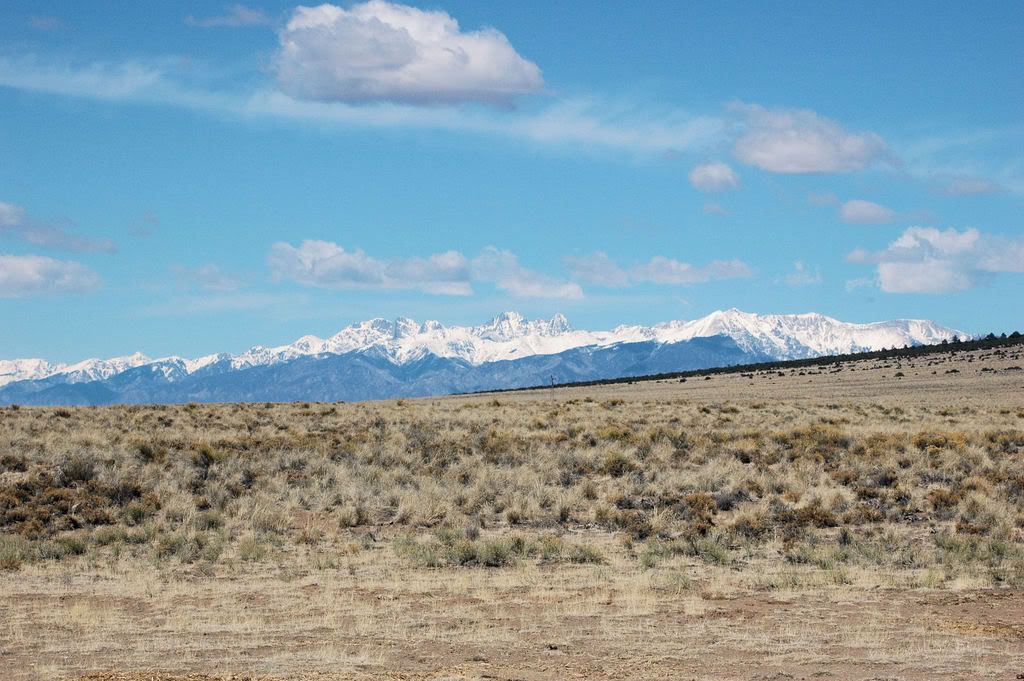 I'm sure you guys are going to have a field day on us for this trip and all the mistakes that we made but I think of this as a positive trip. In the face of a grave situation we worked together and made the right decisions that brought us home alive. We should have turned around at numerous points during the day and we paid for it with a damn cold night out. We managed to keep our wits about us and do what it takes to make it home and that's what matters in the end.
I think that I came home with a lot more appreciation for the little things.